Do you want to improve your speaking and leadership skills, do better in school, in Cadets, college, university and eventually in the workplace?
Click here to sign up for Toastmasters starting Oct 1st 2018
872 Squadron presents the Toastmasters Youth Leadership Program at  Maurice-Lapointe School, 17 Bridgestone Dr, Kanata IN ROOM # 130 on Monday evenings running for 8 weeks. Watch the Squadron website for timing.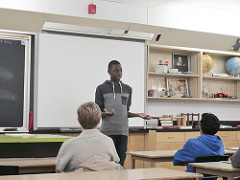 Toastmasters and 872 Squadron offer this program free of charge.
A Youth Leadership Program Handbook will be provided to each participant and a Toastmasters International Certificate will be given to those who complete the JLP.  Participants must bring pens / pencils and a note book.
The YLP Coordinator will be a member of Toastmasters.
What is Toastmasters?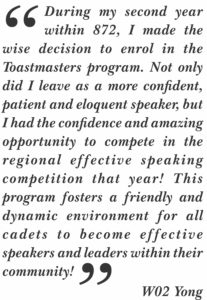 Since 1924, millions of people around the world have become more confident speakers and leaders because of their participation in Toastmasters.  Toastmasters International is a world leader in communication and leadership development.  Today, Toastmasters membership is 350,000 strong, worldwide.  These members improve their speaking and leadership skills by attending one of the 16,400 local clubs that make up the global network of meeting locations in 141 countries.  Visit this website for more information:  http://www.toastmasters.org/
Purpose of the Youth Leadership Program
Every person has the potential to become a good communicator and leader, but this potential needs to be developed.  The program's unique eight-session, workshop-style design enables participants to develop this potential through practical experience.  All that is needed is a desire and willingness to participate wholeheartedly.
YLP participants are not in competition with each other!  For this reason, there will not be a prize for best speaker or for most improved speaker or for anything else.  Each participant must decide what success means for him / her and must strive to make the required improvement/s during the YLP.
The program is not in competition with school programs or courses.  Instead, it's a supplement to these programs, providing emphasis on specialized speaking and leadership skills.
Participants learn to:
* Overcome nervousness when speaking before an audience.
* Organize and present ideas logically and convincingly.
* Listen carefully to the ideas of others.
* Offer advice to help others improve their speaking and leadership skills.
* Participate in and even lead group discussions and meetings.

Note.  Each YLP session is run like a Toastmasters meeting