What You Need to Know about Joining Air Cadets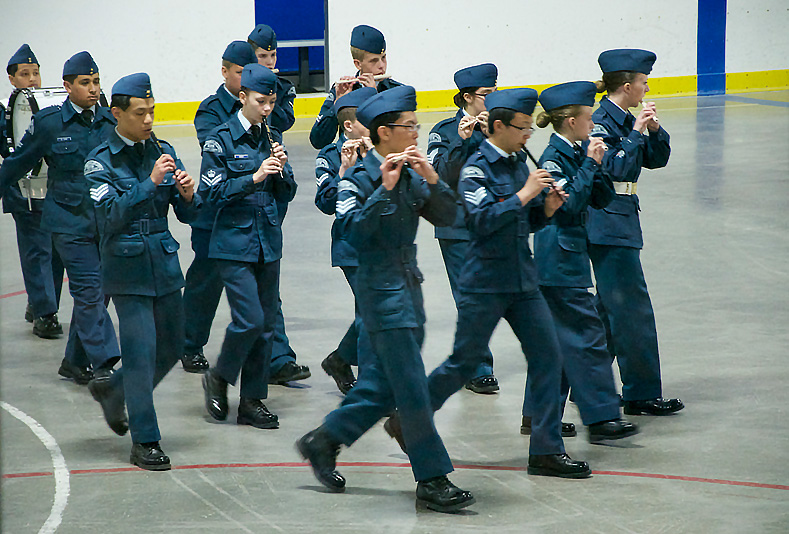 Q – What are the Air Cadets?
A – We are an organization for both boys & girls 12 -18 of age. The purpose of the cadet squadron is to develop youth leadership and promote physical fitness and active citizenship.
Q – Why should I join cadets?
A – You will learn about flight (power & gliding), survival, teamwork and much more. You will make new friends and experience new, exciting and challenging adventures. Many successful Canadian such as Colonel Chris Hadfield (first Canadian astronaut to take command of the International Space Station), Myriam Bedard, Captain Marc Garneau, Rick Mercer, and actors Timothy Dalton & Jim Carey are all former cadets.
Q – Does this mean I will have to join the Canadian Forces?
A – Absolutely not. This is a civilian organization which fosters youth leadership, physical fitness and active citizenship, with the assistance of Canadian Forces personnel.
Q – What does it cost to join?
A – Although there is no direct cost to you, parents and cadets are expected to participate in and contribute to fundraising activities throughout the year.  The funds generated are necessary in order to run the program.  This year, we will be participating in a raffle we are calling the "Auto Lotto".  All parents are to provide a $120 deposit on registration night to cover the costs of the raffle tickets.
Visit the Auto Lotto page to learn more. You may also make an $80 donation per cadet if you don't wish to participate in the Lotto program.
Q – Who instructs the cadets?
A – Cadets learn from members of the Cadet Instructor Cadre (CIC's), officers who are specially trained to instruct and supervise youth. In some cases civilian instructors are called upon to assist.
Q – Can I learn how to fly?

A –

Yes, but not everyone gets to learn. The ones who pass medical and written exams qualify for aircraft and glider pilot scholarships. Other advanced training also exists for Senior Leadership, Athletics, Survival, and more.
Q – Do cadets also teach summer courses?

A – 

Qualified senior cadets get to teach and get paid to be staff cadets. Again small allowances are also given when you attend the summer camps.
Q – Do you have to pay for Camps?
A – No. The meals, travel, lodging and instructions are free.
Q – What do I need to join?
A – You need an interest in the program, and the following:
Proof of age:  a birth certificate issued by a Canadian provincial, territorial or federal government agency (bring originals & a photocopy);
Proof of health insurance: Provincial or Territorial health insurance card.
Please have these original documents with you when you attend registration.
---
How to Find Us
A.Y Jackson High School, 150 Abbeyhill Drive, Kanata, On
Wednesday nights Sept – June
6:30 p.m. – 8:30 p.m.
New Cadet registration night
Speak to one of the staff or contact us for more information about the program.
Please bring your child's Original Birth Certificate/Canadian Government photo ID and Health Card as well as a photo copy of each. We look forward to seeing you there!
Visit the New Cadet Registration page for specific details.
If you miss our registration night you may still register at any time during the year by coming out to our regular Wed night Parade nights 6:30pm held at AY Jackson HS on 150 Abbeyhill Drive.