---
NEWS Flash! Click title to read announcement
---
Important Announcements
Rocketry class has been moved from Fri Apr 20 to Tue Apr 24 at Glen Cairn Community Center Gym
Drill Team will practice on Fri Apr 20 at the Maurice-Lapointe cafeteria
Drill practice for Tue Apr 24 is cancelled
PARENTS WE NEED DRIVERS TO HELP WITH TAG DAY!  If you can help please email Mrs Gold at corina@taomoon.com and let her know your availability.  For more information about tag day timing see http://www.872-squadron-rcac.ca/tag-day-spring-2018-may-4th-6th/
Upcoming Activities & Deadlines
Fri, Apr 20 – Drill Team Practice
1900-2100hrs – Maurice-Lapointe Cafeteria
Sat, Apr 21 – Marksmanship
http://www.872-squadron-rcac.ca/marksmanship-sat-apr-21/
Sun, Apr 22 – Drill Team Competition
http://www.872-squadron-rcac.ca/drill-competition-april-22/
Tue, Apr 24 – Rocketry
1900 – 2100hrs – Glen Cairn Community Center Gym
MAP
Tue, Apr 24 – Drill Team practice is cancelled
Wed, Apr 25 – Squadron Portraits
Last night for squadron portraits at break in the pit! http://www.872-squadron-rcac.ca/cadet-portraits
Sat Apr 28 – Kiwanis Road Cleanup
http://www.872-squadron-rcac.ca/kiwanis-road-clean-up-april-28/
Wed. May 2 – 872 Squadron Bursary Applications Due
http://www.872-squadron-rcac.ca/scholarship-bursary-applications/
Fri. May 4 to Sunday May 6th – TAG DAY
http://www.872-squadron-rcac.ca/tag-day-spring-2018-may-4th-6th/
Sun, 6 May – Gliding Day
http://www.872-squadron-rcac.ca/gliding-day-sun-may-6/
CANCELLED – Sun, May 6 – Battle of Atlantic Parade
872 Sqn won't be participating this year due to conflicting activities
Wed, May 9 – SSC Meeting
All parents welcome.
Fri May 11 to Sunday May 13th – Spring FTX
Permission forms are due by Wed Apr 18
http://www.872-squadron-rcac.ca/spring-ftx-may-11-12-13/
Wed, May 16 – SSC Elections for the 2018/19 Cadet Year
http://www.872-squadron-rcac.ca/ssc-elections-may-16-2018
Saturday May 26th – Annual Ceremonial Review
Attendance Mandatory – details coming soon!
Saturday June 9th – Year End Trip
details coming soon!
NO PARKING – Parents please take note that the area along the sidewalk by the front doors at A.Y. Jackson is a fire lane and a no parking zone.  In addition we feel it is a safety hazard to have cadets walking out between parked cars with other cars trying to exit the parking lot.  Please find a parking spot in the lot and wait for your cadet to exit the building there.  Or better yet, park, come in an join us in the upstairs gallery to listen to the announcements at the final parade.  Thank you for your cooperation!
Regular Weekly Activities
Senior Ground School – Monday – 1900 to 2130hrs – AY Jackson – MAP
Junior Ground School – Monday – 1900 to 2100 – AY Jackson – MAP
Drill Team – Tuesday – 1830 to 2100 – Glen Cairn Community Center Gym – MAP
Band – Thursday – 1900 to 2100 – Glen Cairn Community Center Upper Hall – MAP
Sports Nights – normally last Friday of the month – 1900 to 2100 – Maurice Lapointe School small gym – MAP
---
 872 Kiwanis Kanata Air Cadet Squadron has been actively training youth and being a contributing member of the Western Ottawa community since 1980.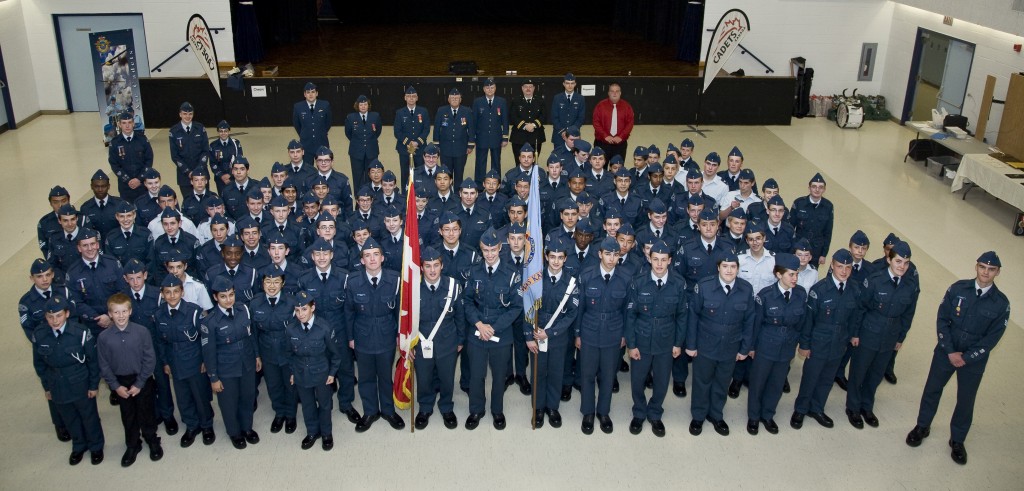 We have a strong and vibrant program which offers much more than just the basic Air Cadet training program. We provide a variety of optional activities running most nights of the week and or weekend. We also provide opportunities for the cadets to fly in a glider and/or small powered aircraft at least two times per year (usually 3 to 4 times).
In addition to the regular Wednesday night training program that all cadets participate in, we also have a drill team and a band that practices on other nights of the week. The squadron is actively building a biathlon team which meets most Saturday mornings. For those who are interested in the opportunity to obtain their glider or power pilot's license, we have Ground School on Monday night's to instruct them and prepare them for the written test. Their standings on these written tests, as well as their involvement in other aspects of the squadron and community go a long way toward their chances of being awarded a glider or power scholarship (several of which are awarded to cadets of our squadron every year).
All of this is possible due to a strong program provided by the Air Cadet League of Canada, a very committed squadron staff, as well as a very committed sponsoring committee (made up of parent volunteers) that all work closely together to achieve a common goal.
 Subscribe to Feed: http://872-squadron-rcac.ca/feed/